BMW has always pride themselves on being ahead of the game, but sometimes, good things don't need big changes. Such is the case with the 2018 BMW 2 series. This year, you will find no major changes, but instead a series of fine tuning that will make the beloved 2 Series even better. The biggest change you'll notice is the sharper look brought about by the revised front bumpers and full-LED headlights featuring a hexagonal shape for the signature BMW "angel eyes" daytime running lights. An extended grille was also added that gives the car a more aggressive look. Fans of a large variety of choice will love all the wheel patterns and exterior colors to choose from.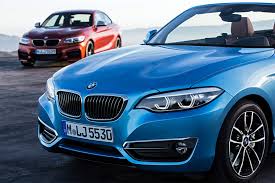 Under the hood of the 2017 the BMW 2 Series, you'll find a pair of all-new engines and two new sets of numerals that stray even further from their displacement-based roots. In the 2018 version of the BMW 2 Series, you'll be happy to know that those engines remain, along with a visual rejuvenation inside and out. It may be just minor adjustments, but it's enough to make the 2 Series coupe and convertible unique and exciting once again.
Those who enjoy color options can rejoice because three new colors have also been introduced- two shades of blue and a new orange - are complemented a plethora of new optional wheel designs. Inside, the 2 Series gets an all-new instrument cluster and new materials on some of the touch points. It all amounts to a 2 Series update everyone can be excited about.
Look for the updated 2 Series in our showroom later this summer, and as always, check out our website to see the full BMW lineup. Call or stop by and our team will make sure you are taken care of.